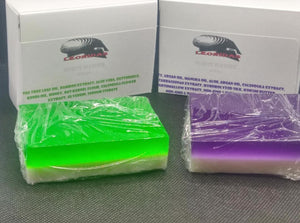 My inspiration came from the Games of Thrones (White Walkers) these bar's are fully loaded. White side Butter, Color side oil. This is the one you don't want to miss. 
WW100- Tea Tree Leaf Oil, Bamboo Extract, Aloe Vera, Buttermilk, Kendi Oil, Honey, Oat Kernel Flour, Calendula Flower Extract, Glycerin, Sodium Sterate.
WW101- ingredients Honey, Argan Oil, Manuka Oil, Aloe, Calendula Extract, Carrageenan extract, Hydrolyzed Silk, Kokum Butter, Marshmallow Extract Coconut Oil, Sunflower Extract. 
Every product is unique, just like you. If you're looking for a product that fits the mold of your life, the White Washer Combo is for you.

Inventory Last Updated: Dec 01, 2023
Unmatched Lather!!
Boy these 2 bars are something else. Smell is iight, the purple bar smells better than the green one but the lather on both bars is incredible. At this price you can't beat it, lowkey wanted some Goat Drip Legendary tie dye bars but why get those when for the price of one I can grab 4 off Leonidiz 🤷🏽‍♂️💯😂. Recommend these to anyone who wants an elite wash n style session one right after another, works even better with a detangling brush for sure.
White Washer is hittin!
The lather is superb and so is the lay!!!!
Fire soap combo
great smell great lay excellent shine
Another Banger!!
🔥🔥🔥 if you don't believe me - run it for yourself!!