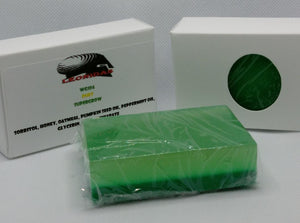 This Bar is specifically designed for those with thinning and those who want to promote thicker hair. Foam is extra thick. Remember this is a leave in Foam.
Conditioning Soap Bars Ingredients: Honey, Oatmeal, Pumpkin Seed Oil, Carrot Oil, Sorbitol, Glycerin, Sodium Stearate
Imagine if you could be satisfied and content with your purchase. That can very much be your reality with the SuperGrow: WG104.

Inventory Last Updated: Sep 24, 2023
Str8 🔥🔥🔥💯
used it once and man I couldn't believe the results bought 2 more bars.
Awesome
These products have changed the game for my waves.
Great Lay, & Conditioning Bar
Smells like peppermint..which is good. Leaves a great Lay & Shine.
SuperGrow
Excellent lay bar that has thick lather and does exactly what the bar says it does. Smells great also!
Great products
Ima customer for as long as i got hair !!! Love all the lay bars. Never going back to the old wash n style ways