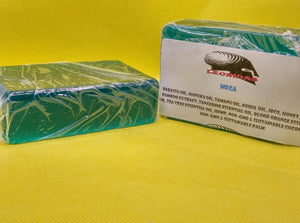 The Colossal brother known as the Mega, this one is oil based to penetrate the hair cuticles and add extra shine. Put these two in rotation for max hair health benefit. Limited Qty available.  
Conditioning Soap Bars ING: Babassu Oil, Manuka oil, Tamanu oil, Pequi  Oil, JBCO, Honey,  Aloe, Bamboo Extract, Tangerine Essential Oil, Blood Orange Essential Oil, Tea Tree Essential Oil, Hemp, Non-GMO & Sustainable Coconut Oil, Non-GMO & Sustainable Palm.
Its unique oil-based blend offers superior nourishment to dry or damaged hair, providing long-lasting hydration and rich, glossy shine. With just two uses per week, you can transform the quality of your hair.
The Mega *Leave in Bar* is evocative, to say the least, but that's why you're drawn to it in the first place.

Inventory Last Updated: Dec 01, 2023
Great
Great product lays these waves down and keeps them moisturized
Fireee
Leave my hair soft, laid and shiny!!
My hair feels great
My hair is coarse I feel like it softened it more feels very clean I didn't leave it in tho I washed it out next time in leaving it in.
Best ! Keep up the good work