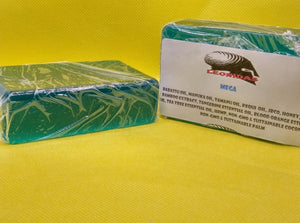 The Colossal brother known as the Mega, this one is oil based to penetrate the hair cuticles and add extra shine. Put these two in rotation for max hair health benefit. Limited Qty available.  
Conditioning Soap Bars ING: Babassu Oil, Manuka oil, Tamanu oil, Pequi  Oil, JBCO, Honey,  Aloe, Bamboo Extract, Tangerine Essential Oil, Blood Orange Essential Oil, Tea Tree Essential Oil, Hemp, Non-GMO & Sustainable Coconut Oil, Non-GMO & Sustainable Palm
Imagine if you could be satisfied and content with your purchase. That can very much be your reality with the Mega *Leave in Bar *** With Avocado Extract - Water Soluble***.

Inventory Last Updated: Sep 24, 2023
Incredible
I used this leave in bar the first day in conjunction with the SILKY BAR, got a quick brush session in and ragged up. My Aunt was at my house when I took the rag off, and she said oh your hair looks so nice and shiny. She even asked about the products! Hair was laid with a glow! Extremely pleased with the first two bars! Over wash it is and will use two different ones tomorrow!! Awesome product!
🔥🔥
Basically double the bar for almost the same price and effectiveness the water soluble addition makes it even better
This is my favorite....
The Mega is currently my favorite and go to lay bar. Leaves my hair feeling, soft, looking very healthy and shiny. The lather is superb as well as the lay.
🔥🔥🔥
Left my hair laid & soft with a dope sheen. It's another banger! Get yours ASAP