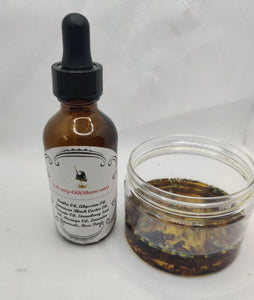 This one is (AKA the Show-out Oil). Infused with lavender botanicals and Rose petals, Comparable to "eXplosive GROWTH Hair Oil.  
Haitian Castor Oil
Perilla Oil- Perilla has rich Vitamin A content that hydrates the hair without weighing it down. Because of its lightweight composition, the oil quickly penetrates the hair shaft, giving it a beautiful shine
Abyssian Oil- improves hair's manageability, shine, and moisture, and, as a bonus, acts as a shield against irritants
Jamaican Black Castor Oil -will moisturize, thicken, strengthen and rapidly increase hair growth.
Avocado Oil- can moisturize, repair, and strengthen your hair.
Strawberry Seed Oil- is rich in essential fatty acids, which gives it the essentials to heal the cells of your scalp skin
Lavender Botanicals, Rose Petals.
The LN-103-Oil (Show-out)*2oz* destined to impress, and priced at only $18.00, for a limited time.

Inventory Last Updated: Sep 24, 2023