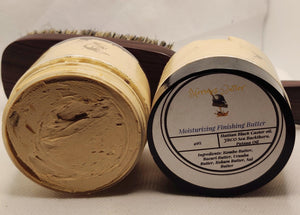 The 'Finishing Butter' is created by combining exotic butters. Using natural and dark-colored butters and oils, your hair is coated with a wet jet black look. The unrefined and natural ingredients ensure extreme shine in a jar. No preservatives added or fillers. A list of ingredients and their origin can be found below.

Kombo butter- West Africa
Bacuri Butter- Brazil
Ucubba Butter- Brazil
Sal Butter- India
Haitian Black Castor oil- Haiti
Jamaican Black Castor Oil-Jamaica
Sea Buckthorn Oil- Europe
Pataua Oil- Brazil

This powerful combination of exotic butters and oils adds unmatched shine to your hair. With no preservatives or fillers, you can trust that this moisturizing butter is made with only the purest and highest quality ingredients available. Pamper yourself with this luxurious finishing butter for a stylish, jet black shine with the incredible benefits of natural oils.
The Leonidiz * Moisturizing Finishing Butter* 4oz* was built with people like you in mind. Something to keep you happy. Every. Single. Day.

Inventory Last Updated: Dec 01, 2023
Coarse hair Perfection!!!!!
This butter by far is one of the best butters out there. The smell of this butter is amazing! I was using during a brush session & my wife stopped mid-sentence & asked " what is that ? & why does it smell so good?" lol. All you need is dime to nickel size amount, your favorite softy, and durag. Get you a 10 min slow stroke brush session in. I promise you once you unrag. Later on that or the next morning you hair will be moisturized & on point! I forgot to mention this butter is AWESOME for coarse hair! Don't sleep & miss the opportunity to buy this butter mane! I promise that you will regret it!