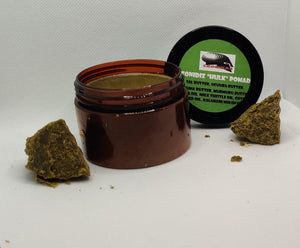 This is an all-natural extreme holding pomade. Looking for hold that is all natural? This is the pomade for you. No Beeswax which causes build up in your hair. These are Exotic butters and Oils used to create a premium pomade that can be used by men or women.
Sal Butter: Acts as a deep conditioner for hair. It also improves hair elasticity and deeply nourishes dry, brittle hair
Ucuuba Butter: Can help prevent hair damage from free-radicals, improve shine and elasticity in hair (leading to less breakage), and help keep hair hydrated longer.
Tucuma Butter: High fatty acid content increases the moisture levels and softness, which adds shine to the strands.
Murmuru Butter: Fatty acid shown to penetrate the hair's shaft. This allows for better moisture retention and sealing of the cuticle, resulting in softer, more hydrated hair 
Amila Oil: Is said to stimulate hair growth, as well as prevent hair loss and early graying
Milk Thistle Oil: Promotes healthy hair by preventing hair loss and strengthening hair follicles.
Cotton Seed Oil: It has an excellent influence on the condition of our hair and scalp thanks to a balance of unsaturated fatty acids
Kalahari Melon Oil: It helps build up the lipid barrier, so that scalp, skin, and hair stay hydrated, and can protect themselves from the elements
The Leonidiz "Hulk" Pomade *4oz* is evocative, to say the least, but that's why you're drawn to it in the first place.

Inventory Last Updated: Sep 24, 2023
Leonidiz "Hulk" Pomade *4oz*
Best Pomade Ever!!!🤯
Most pomades are thick and heavy but not this one! Easy to apply and smells great! Left my hair with a very nice shine and hold. I love it!
Best pomade out on the market 🔥🔥🔥
This pomade is great for all waving needs u won't need another 🗣📣