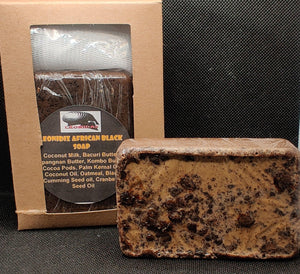 The idea was to create a Top tier African Black Shampoo Bar for wavers to use for wash and style. Truly a great wash and style Shampoo Bar,  Almost reminds me of a Brownie. The Bar's are 8oz so they will last for a while. 
Ing: Coconut Milk, Bacuri Butter, Kpangnan Butter, Kombo Butter, Cocoa Pods, Palm Kernel Oil, Coconut Oil, Oatmeal, Black Cumming Seed Oil, Cranberry Seed Oil.


The Leonidiz African Black Soap Shampoo is evocative, to say the least, but that's why you're drawn to it in the first place.

Inventory Last Updated: Dec 01, 2023
Great
I love the products and the shipping and receiving process
Crazy Lather Wash and Lay!!!
This wash and lay bar is everything. . . Ridiculous lather, even on the first wash.. left my hair feeling fresh and clean, and the lay down and shine makes this bar worth it - olddirty66
Amazing Lather everything he drops is 100% worth it
So fire
Been the only soap bar I been using since I purchased it so dope gonna definitely purchase another real soon
BEST SHAMPOO I'VE USED EVER
The African Black Soap Shampoo work wonders when using in my wash and style,it really cleans my hair and leaves it feeling soft and surprisingly shiny!