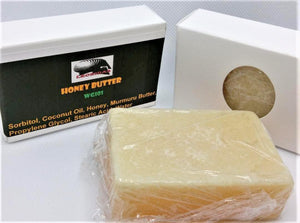 The base for this bar is Honey. The Murumuru butter is an exotic butter from brazil. When mixed with honey and coconut this bar is an elite lay bay. The lather is thicker than your normal shampoo, remember these bars are detergent free. Leave the lather in until dry, which is for 45-60 minutes.
Conditioning Soap Bars Ingredients: Honey, Coconut Oil, Murumuru butter,Propylene Glycol, Sorbitol, Stearic Acid, Water. 
The Honey Butter WG101 ***With Honeyquat-Water Soluble*** is a sensational customer favorite, and we hope you like it just as much.

Inventory Last Updated: Sep 24, 2023
Dope product
I used it for the first time a couple days ago and it's fire. It smells amazing and left my hair soft and moisturized without needing additional product after it dried. I will be a frequent flyer on leonidiz.com
Honey Butter WG101 ***With Honeyquat-Water Soluble***
Beautiful Lay 🔥🔥🔥
Smells great. Laid my hair down! Left it with a great shine. I can't complain! Would def cop it again. Works solid on a low cut or when on a heavy wolf!
I love the bars fam!!!
The honey butter has a fab lay. Two days later my hair is so soft and silky.