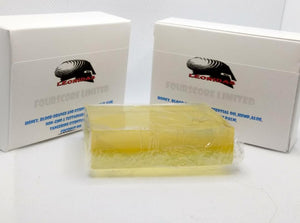 Designed for the serious waver. This will help promote extreme hair health. This bar is unlike any i have created. Totally transparent bar. The Fourscore actually means there are four different bases. 1st is honey, 2nd is Hemp, 3rd is Aloe, 4th is Blood orange Oil. Once its Gone that's it. 
Conditioning Soap Bars Ingredients: Blood orange and Essential Oil, Hemp, Aloe, Non-GMO and sustainable Palm, Tangerine essential Oil, and Coconut Oil. 
Every product is unique, just like you. If you're looking for a product that fits the mold of your life, the Fourscore *Limited Bar***With Manuka Honey Extract - Water Soluble*** is for you.

Inventory Last Updated: Sep 24, 2023
Fourscores!
Love the lather and smell. My hair lays down nicely after I use it. I was glad to be able to get it again after so long. 💪🏾
Fourscore =5 stars
This lay bar leaves my hair super laid and moisturized. This bar has been clutch especially in cold weather
Excellent
Lays your waves down you can extend a wolf with this
Good lay bar
I bought two of these bars, because I believe the reviews and in Leonidiz. I am not disappointed with this product, I am very happy. Keep up the good work Leonidiz.
Awesome Lay bar
These bars are amazing my son uses them on his hair and the lay effect is awesome his hair is already soft but the bar gives it a nice healthy shine but not an oily look .