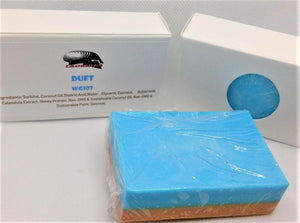 This is a specialized bar formulated on one side honey and the other buttermilk. This bar has added oils: Argan oil, Baobab oil, and Kendi Oil. This one is for the oil lovers.
Conditioning Soap Bars Ingredients:Coconut Oil, Honey, Oatmeal, Carrot Oil, baobob Oil, pumpkin seed oil, sweet almond oil,Sorbitol,Steric Acid water, Calendula extract
Every product is unique, just like you. If you're looking for a product that fits the mold of your life, the Duet WG103 is for you.

Inventory Last Updated: Dec 01, 2023
Good lather
Provides really good later and lays your hair down nice.
I am impressed
Everything I ordered from leonidiz is amazing especially the duet WG103. Leaves my hair so soft and smells amazing. My wife will walk into the bathroom just to smell my bar. Not just for wash and styles but perfect for the whole family. My wife tried my bar on her curly hair and was amazed by the lather and how fresh her hair smelled afterward. I am a believer. leonidiz by Carlton is the truth. Take all my money fam!
Lay Bars
I really like all the lay bars I purchased from your store. The lather and lay I get from the Duet WG 103 is unbelievable. I will be trying some of the other bars as well. These bars are 🔥
Great product
It lathered well, washed out buildup. Hair was smooth and manageable. I will buy again!!!