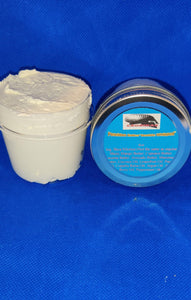 When it comes to caring for highly porous hair, the goals include reducing and reversing damage to the cuticle causing it to be raised or chipped. This butter is superior and lays hair cuticle and restores moisture levels.
Butter is Super Creamy but remains thick. Six different butters and Seven Oil that nourish the scalp and facilitate in healthier hair process. One of my favorite go-to-butters after washing and styling.
ING: Shea Nilotica (Not the same as regular Shea), Mango Butter, Cupuacu Butter, Tucuma Butter, Avocado Butter, Murumuru Butter, Coconut Oil, Grapefruit Oil, Pataua Oil, Copaiba Balsa Oil, Argan Oil, Acai Berry Oil, Peppermint Oil.
On the fence about this Double whipped Poseidon Hair Butter*4oz*? Don't be. Let our satisfaction guarantee address your concerns.

Inventory Last Updated: Dec 01, 2023