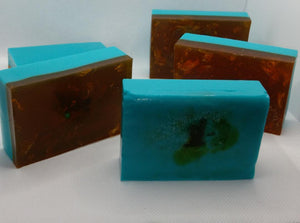 These wash bars still have the same punch as the one's advertised. The issue is due to some cosmetic errors they did not make the cut. These are made with Honey and coconut oil, you don't want to miss these they smell fantastic also. Great for overall hair health.
These bars will be a mixture of different types of Bars. No label will be on the bars, with exception for the Wash or Clarifying bar. The rest will be lay bars and you will receive a good amount. Deal you don't want to miss
The Cosmetic Scraps (Assorted Scrap bars)/Lay Bars and Shampoo Bars. is evocative, to say the least, but that's why you're drawn to it in the first place.

Inventory Last Updated: Dec 01, 2023
Confused
I purchased the scrap bars, but was totally unprepared for the no name and no instruction on how to use it. I'm new to the Leonidiz line, and since some should be rinsed out and some should be left in there is no way to tell which is which! I've tried to look at the pictures to decipher some but to no avail. Just a thought, if you could at least label the scraps, rinse out or leave in would be helpful! I cant use any products with hemp in them, I didn't think about that until after I received the bars and they weren't labeled or marked in any way.
Various Lay/Shampoo Bars
Used the wash bar..good lather & great lay. It would be good if the scrap bars are labeled to tell what is a wash bar or lay bar. But overall I'm very pleased with his products.
Love everything I've purchased from you
I have been using your bar's or should I say my wife loves your bars which made le try them also . the lay with the waves are dead on with them lay bars it works for my curly pony tails also .
Cosmetic Scraps (Assorted Scrap bars)/Lay Bars and Shampoo Bars.
A good mix
I was excited about the arrival of these scraps and I wasn't disappointed. There's a good variety of bars, that can let you experience more of leonidiz has to offer.