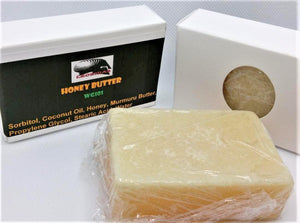 The base for this bar is Honey. The Murumuru butter is an exotic butter from brazil. When mixed with honey and coconut this bar is an elite lay bay. The lather is thicker than your normal shampoo, remember these bars are detergent free. Leave the lather in until dry, which is for 45-60 minutes.
Conditioning Soap Bars Ingredients: Honey, Coconut Oil, Murumuru butter, Propylene Glycol, Sorbitol, Stearic Acid, Water. 
On the fence about this Honey Butter WG101? Don't be. Let our satisfaction guarantee address your concerns.

Inventory Last Updated: Sep 24, 2023
Great shine and silk effect
One of my favorite bars to wash and lay with! Leonidiz always have the heat and I recommend racking up on some good product! Don't forget use the vitamin water after your wash and lay!
Game Changer
This bar is a game changer. You will not regret it. Excellent lather!!
This bar have you layed and it smells good
Honey butter
GOOD PRODUCT BUT HEAVY HARSH HONEY SMELL , like medicine to me
🔥🔥🔥
You won't be disappointed w/the Honey Butter bar. One of my favorites!