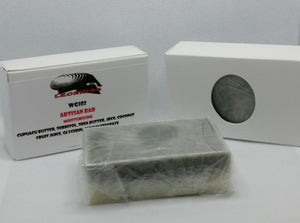 This bar is a Masterpiece. Formulated to draw continuous moisture throughout the day. The bar contains humectant properties. No two bars are the same. Thick foam. Leave in.
Conditioning Soap Bars Ingredients: Cupuacu Butter, Butter Milk, Goat milk, Sorbitol, JBCO, Honey, Calendula Flower Extract, Glycerin, Sodium Stearate
No more dry, frizzy ends! Formulated with luxurious ingredients, Artisan Bar WG102 brings life to hair with intense moisture. It's a one-of-a-kind bar you'll look forward to using. With its bodybuilding, foam-thickening properties and its humectant-rich formula, you'll have hair that looks and feels out of this world.
The Artisan Bar WG102 is the product you didn't think you need, but once you have it, something you won't want to live without.

Inventory Last Updated: Dec 01, 2023
Formula change ?
I don't know if the formula changed for the artisan bar and the 3 butters bar but it doesn't feel the same (pause). It's still good but I feel like the bars used to have a much deeper lather and richer feel.
Fantastic product!!
I love his bars I've ordered 3-4 times and couldn't be more pleased with his products. Great lather for washing & brushing sessions.
Artisan Bar
Awesome scent and lay. Hair wasn't dry at all after rag
Great Smell, Good For When You're Wolfing