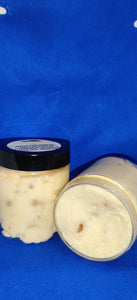 One of the most exotic Shampoo Butters created. Thick Like Butter, Consistency thick, and all-natural shampoo. This one is a remix of the African Black Shampoo. Created to promote hair health and add Luster and Shine to your hair. All my products are one of a kind do no miss out. 
Ing: Shea Nilotica, Kpangnan Butter, Liquid Black Soap, Canola Oil, Buriti Oil, Grapefruit Oil, Coconut Oil, Cocoa Pods, Roasted Plantain Skins, and Carrot Powder. 
This ultra-nourishing shampoo featuring African Black Kpangnan & Shea Nilotica Butter helps to strengthen weak hair, moisturize dry scalp, and protect natural hair luster and shine. With natural and organic ingredients, it's an ideal product for delivering healthy, hydrated results.
The African Black Kpangnan & Shea Nilotica Butter Shampoo *8oz* is a sensational customer favorite, and we hope you like it just as much.

Inventory Last Updated: Dec 01, 2023
What A Surprise
There are many artisan whipped shampoos being made and marketed today, but this one takes the cake. Rich with quality ingredients that conditions the hair and scalp, this shampoo leaves my hair soft, moisturized, and more importantly as a waver, laid and manageable. Definitely will purchase again when my jar is empty….GREAT PRODUCT !!!