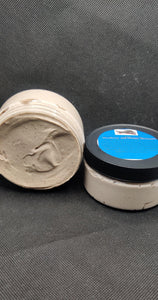 ALPHA MOISTURIZER

Blue Berry and Honey Moisturizer
Limited production moisturizer. All natural and organic ingredients used to create the most sophisticated and exotic moisturizer around. This one here is immaculate. Real Blue Berry juice and Honey used to create this moisturizer. If you know anything about Blueberries are also packed with antioxidants and vitamins such as vitamin A, vitamin C, and vitamin E. Vitamin B complex is particularly good for growing our curls. Blueberries aid hair growth by improving oxygenation and circulation of blood in the body, particularly the scalp. Know as Superfood.
Honey - Being a great emollient, it nourishes the scalp from deep within to stimulate growth of soft, silky hair.
- It is also rich in antioxidants, which means it aids in hair conditioning, breaking, or damaging.
Ing: Blue Berry Juice, Ucuuba Butter, Shea Butter, Cupuacu Butter, Unrefined Honey, Olive Fruit Oil, Ojon Oil, Castor Oil, Passion Fruit Oil, Aloe Juice, Acai Berry Oil, Lemon Fruit Extract, Pequi Oil, Evening Prime Rose Oil, Althaea Officinalis Root Extract, Sunflower Extract, Chondrus Crispus Extract

The Leonidiz *ALPHA Moisturizer*4oz* is a sensational customer favorite, and we hope you like it just as much.

Inventory Last Updated: Dec 01, 2023
💣 💣 🔥
I'm all in than purchased a bar, butter, & pomade.No CAP all products are the truth hands ✋️ downs.Got my service from now on.Keep up the Good work 👏 bro.
Still haven't received package
I would like to give it a review but I never received it.
Now this how you do it!!!
Maximum moisture, light, incredible smell, highly nourishing, excellent shine, and just a workhorse for hair health. Only other moisture products I put in par with this is the Strawberry moisturizer that came out a while back.
Great moisturizer
This moisturizer is one of a kind it's so light yet moisturizes your hair fully. After you use it your hair will have a new level of shine