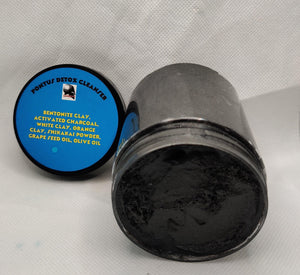 Summer is here. For those like myself who work out and sweat profusely this product will work great for you. I promise if you are an athlete by any means or just need a clarifier to help detox the scalp this is a must. All Pontus collections are hybrid products, they perform more than one action. This one will help restore the scalp back to the proper PH balance while removing impurities from the scalp and hair.
Detox for Hair:
Pre-rinse hair and apply product. Leave-in hair for 10-15 minutes then rinse.
Facial Mask Directions:
Do not wet your face or the product. Apply to your face and leave on for 10-15 minutes then rinse off with cool water.  
ING: Bentonite Clay, Activated Charcoal, White Clay, Orange Clay, Shikakai Powder, Grape Seed Oil, Olive Oil, ACV,  and Fragrance. 
The Leonidiz*Pontus Detox Cleanser*4oz or 8oz-Selections* is the product you didn't think you need, but once you have it, something you won't want to live without.

Inventory Last Updated: Dec 01, 2023