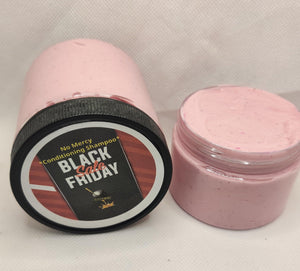 Highly moisturizing Conditioning and Shampoo Butter. One of a kind, there is no other Shampoo/Conditioner on the market that can compete or compare. A true 2-in 1 formula. This product is not intended to produce an abundance of unnecessary lather. This product renews, restores, and rejuvenates. All my products are handmade with the finest and best wild harvested, unrefined, and organic ingredients. 
Mafura butter is an excellent hair conditioner. It rejuvenates damaged hair and prevents brittle hair from breaking. The high fat content in Mafura Butter restores hair elasticity and softens the hair cuticles hence promoting more manageable hair.
Exclusive oils: Haitian Black Castor Oil: Hair & Scalp: Ricinoleic acid carries Omega 6 and 9 fatty acid to the scalp which accelerates blood circulation and increases hair growth.
Ing: Mafura Butter, Mowah Butter,Shea Nilotica Butter, Kpangnan Butter, Sal Butter, Kokum Butter, Kombo Butter, Shea Butter (White), Mango Butter, Ucuuba Butter, Bacuri Butter, Cupuacu Butter, Tucuma Butter, Murumuru Butter, Dragon Fruit Powder, Avocado butter, Acai Oil, Argan Oil, Haitian Black Castor Oil, Pitanga oil  Guava Seed Oil, Castor Oil, Vanilla Extract Fragrance
The Leonidiz* No Mercy*Conditioning Shampoo(15- Butters & 6 Oils) *8oz or 4oz is far and away, one of our most popular items. People can't seem to get enough of it.

Inventory Last Updated: Sep 24, 2023
Da best
My hair loves these natural ingredients!!!